We've all had those days when we spend hours through content on YouTube. Whether you're watching a video on that Physics concept you missed out on during classes or you're just watching videos of cute cats going about their lives in general, creators now have a well-developed platform to reach their designated audience.
Now if you're a content creator on YouTube, you've probably experienced the hassles associated with recording a good quality video, adding animated, or even analyzing the data about how exactly you could better cater to the needs of your audience. Not to mention the monumental task of making your video stand out among thousands of other videos about the same topic. 
Camtasia- The Essential Tool For Youtubers
If you have found yourself facing any of these troubles, Camtasia is here to rescue you. Initially released sometime in around 2002, Camtasia is a software suite that enables you to create your videos directly through screen recordings or by directly recording while being plugged into Microsoft PowerPoint. You have the convenience of recording audio either at the same time or by adding it in later through a different source, making recording your YouTube video a lot more convenient.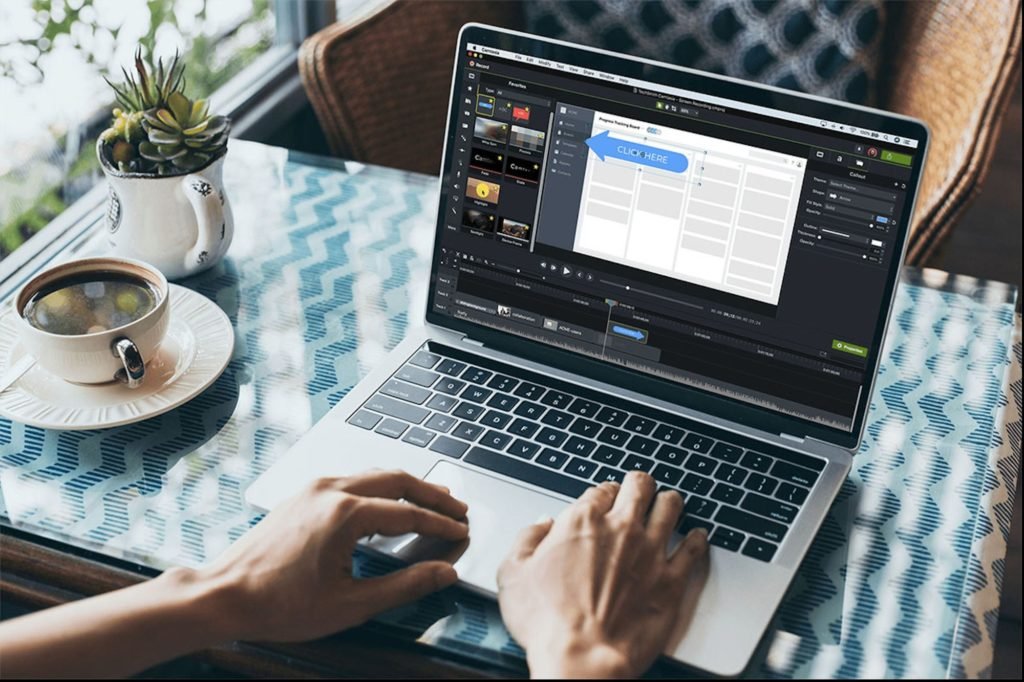 We all love a good video tutorial. Perhaps you enjoy watching tutorials of dance videos (or not if you've got two left feet), or maybe you love baking and spend time watching tutorials on how to bake a cake. Well, did you know that there's a series of time-consuming steps involved in making those videos so easy to follow and aesthetically pleasing at the same time?
Worry not, because that is exactly what Camtasia helps you with. Not only does it let you record the movement of your mouse as well as how the keystrokes, but it also allows you to mark up your videos and add effects to them after you've finished editing them smoothly. If you want to enable your audience to follow your video even without the sound on, this software lets you add notes, captions, arrows as well as highlights.
If you're a YouTube video creator and you're reading this article, then you probably know the essence of adding music to your videos. No audience just wants to watch a video where one person delivers a bland monologue. A little peppy background music goes miles in terms of engaging the audience. This is why, aside from the above-mentioned voice narration features, Camtasia also offers additional audio effects and music settings.
With its easy-to-use features and customizable options, Camtasia is a great software to use while uploading slideshows or presentations onto your YouTube channel. If you're the kind of creator who goes to great lengths to ensure that your videos are easy on the eyes and have a high retention value, then you've probably pondered over the idea of incorporating animations in your video, especially if you run an educational channel. 
If you're ever making a video that involves just you speaking and trying to engage the audience, you might often wish that you had a better background than the four walls of your room. Camtasia comes to your rescue again! With its built-in green screen feature, recording your YouTube video might just make you feel like a movie actor or a news reporter on TV! 
So far, we've learned about the various features of Camtasia that enable you to streamline your recording process and make it easier to follow for your target audience. However, sometimes your videos might hit a lull period and you will probably find yourself struggling to find new ways to make your content more creative and engaging. Well, what if you could find out all by yourself what exactly you need to do in order to grow your channel even more? Sounds cool right? I think so too. 
This is why Camtasia allows you to edit and publish quizzes and surveys that not only enable you to interact and connect with your viewers but also find out about what your videos are missing and what more you can do to ensure your viewers stay connected and support your videos throughout. Not to mention, adding a quiz to your video also makes it a lot more interesting for a person viewing your channel for the first time. 
If you want to find out more about these features and how you can use them better to add value to your videos, you can head to the TechSmith website, which offers tutorials on the various features of Camtasia. And if you want to grow your channel further and be among the YouTube favorites, then go on and download Camtasia right now!
You can also read- Dashboard Companion For Vehicles – Best Affordable Dash Cam